Trading : WAGO INDUSTRIAL CO.,LTD.
Principle
We make strong links with South Asian Countries.
We do import and export with South Asian Countries since 1972.
We export good point of Japan not only hardware but software as well.
We hope our business with our partners leads us to mutual growth.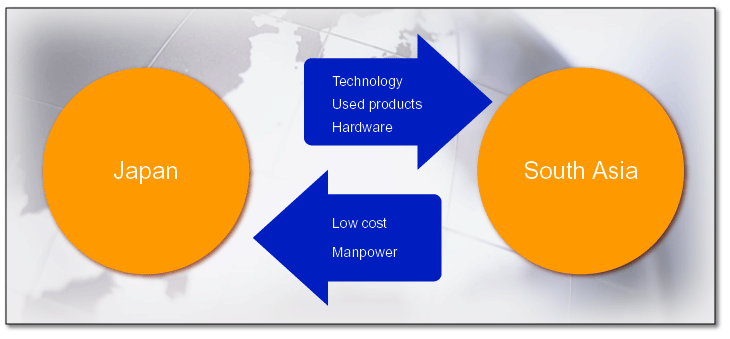 Export of used cars, trucks and parts to Philippines, Indonesia, Malaysia and Thailand.
"To contribute to the protection of the environment"
We make use of used machines, second- and third-hand items in Japan.
Used trucks run over 300,000km and Forklifts of 15 years old or even older, which can be scrapped in Japan, we export them to the South Asian Countries.
Especially Philippines, we do business with Philippine companies since 1972.
We have strong relationship with them. We use the most of our abilities to contribute to the Social Responsibility.
Import of builder's hardware and house electric parts.
"We are a trader with Japanese technology"
We can supply quality products by Japanese standard at reasonable prices, which can be realized by using technology and quality control of TANABE STEEL CO.,LTD.
We produce steel pressing parts, plastic parts, wire products, diecasting products in China, and we sell these products in Japan.
We make use of TANABE STEEL to assemble from Japanese-made parts, and also to perfrom product inspection in Japan.
Export of builder's hardware and tools
"We export Made in Japan"
We believe Japanese quality is still well appreciated all over the world.
As price competition is becoming more internationally and more severe than ever, Japanese products cannot be sold as well as before. We, however, are still able to export builder's hardware and tools of excellent quality to the South Asian Countries.
Domestic sales of our original brand, "TANNER"
"We make your life more convenient by the TANNER products"
We develop and produce TANNER products which are hardware and DIY products.
We and TANABE STEEL put original idea into our products, which should make people's lives more convenient.
Especially "KEY BOX" and "FOLDING BRACKET" have already been used by many people around the world.
Corporate Profile or About Us
? WAGO INDUSTRIAL CO.,LTD.
Name
WAGO INDUSTRIAL CO.,LTD.
Address
13-28, 2-chome, Mitsuya-minami, Yodogawa-ku, Osaka, 532-0035,Japan.
TEL 81-6-6302-3681
FAX 81-6-6302-3685
E-mail hiro@tanner-wago.co.jp
URL
http : www.//tanner-wago.co.jp
President
Hiroshi Tanabe
Capital
US$100,000.00
Founded
1971
Turn over
US$6,000,000.00
Employees
7 persons
Bank
Mizuho Bank Nishinoda Banch.
Ikeda Bank Shonai Branch.
Jyuso Shinyo Kinko Head Office.

Business
Export : Used auto parts, Used truck, Used fork lift,Builder's hardware?Auto door

Import : Builder's hardware?Steel press parts?Plastic parts?Wire products Die casting products

Domestic : Original brand "TANNER"
Key Box?Folding Bracket?Free Stay?Folding Handrail?Folding Chair etc.

Overseas Office
Shanghai Office
Room No.8204 A8 JBC Building 808 Hongqiao Road, Shanghai, China.
TEL/FAX 021-6448-1342