Manufacturing : TANABE STEEL CO.,LTD.
Principle
merge of high technology and experience
Our business policy is KEEPING GOOD QUALITY.
We comply with the diversification of surroundings and cost down, make come true customer's satisfaction by the experience and brand new technology.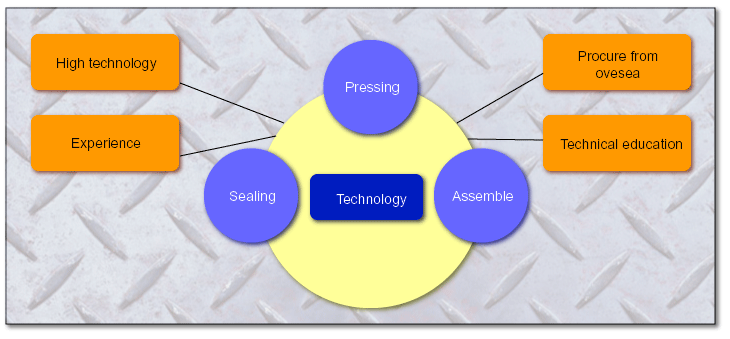 ? Design and development
"Know-how"
We are designing cartridge tank for oil buring for more than 40years.
We can make Steel pressing parts, plastic parts and rubber parts by the long time experience.
We can make the products not only your instruction but we offer best solution to make low cost and good quality.
We are supplying or original hardware as TANNER brand, we make come true peaple's convinience life.

? Steel pressing
"Drawing"
Our drawing products make your process to be shorter and come true your cost down. We make draw cartridge tank without oil to contribute the protection of the environmet.
? Sealing process
"Without any omssions"
We should be make oil tank without any omssions.
We have the know-how of the process and sealing material, inspection.

? Assemble and Inspection
"Do not fail"
We make automation system and inspection machine by our self.
Our inspection system make cross check by the man and machine and it should be make true keeping good quality and low price

? Procure from oversea
"Global"
WAGO INDUSTRIAL CO.,LTD is our subsidiary, TANABE cooperate with WAGO,
we instruct our technorogy to the foreign manufacture and import directly.
And more, we import the some parts from other country and assemble in Japan,
it should be make true keeping good quality and low price from the global way.

Company guidance
? TANABE STEEL CO.,LTD.
Name
TANABE STEEL CO.,LTD.
Address
13-28, 2-chome, Mitsuya-minami, Yodogawa-ku, Osaka, 532-0035,Japan.
TEL 81-6-6301-1651
FAX 81-6-6301-1902
URL
http : //www.tanner-wago.co.jp
President
Takeshi Tanabe
Capital
US$100,000.00
Foundation
1883
Turn over
US$8,000,000.00
Building
Site 3,300? Total floor spac 3,300?
Employee
35persons plus contract employee 20-40 persons
Bank
Mizuho Bank Nishinoda Banch.
Ikeda Bank Shonai Branch.
Jyuso Shinyo Kinko Head Office.

Business
Cartridge tank for oil buring, hardware, DIY products
Equipment
| | | | |
| --- | --- | --- | --- |
| Press machine | 150 TON | 1unit | Straight side press |
| | 80 TON | 11units | 3 continuance machine 6 continuance machine |
| | 60 TON | 2 units | Power press |
| | 35 TON | 1unit | Power press |
| | 25 TON | 4units | Power press |
| Sealing machine | 5.5KW seamer | 8units | capacity t 0.6-1.4mm max |
| | Supply machine | 3units | |
| | Robot | 1unit | |
| | Seal supplier | 4units | |
| | Drying machine | 1unit | |
| Welding machine | Projection welding | 5units | 20-60 KVA |
| | Spot welding | 2units | 15-20 KVA |
| Inspection machine | submergence inspection | 6units | |
| | pressure inspection | 1unit | |
| Other | Auto driving screw machine | 6units | |
| | Cutting screw machine | 2units | |
| Tooling machine | Milling machine | 1unit | |
| | Lathe | 2units | |
| | Grinder | 1unit | |
| | Drilling machine | 1unit | |
| | Tapping machine | 1unit | |
| | Gas welding machine | 1unit | |
| | Arc Welding machine | 1unit | |